"We are all theater". Two Day Workshop for the Public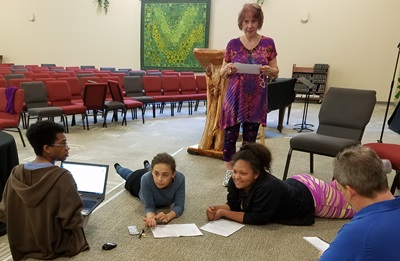 April 21 and 22, 2017 workshop, with an 8pm public performance on Saturday night, April 22nd, 2017. Facilitated by Dr. Deb Royals.
$75 per participant, includes food and two comp tickets to the performance for friends and family.
Final performance on April 22nd, 2017 in the evening is $10 a person for the audience, and is free for season members.
Email thejusticetheaterproject@gmail.com to sign up. Or call us at 919-264-7089 to make a reservation.
Forum Participants: Friday night and all day Saturday.
The fun begins Friday night at 7pm, with an overnight stay at Umstead Park UCC with late night snacks. Saturday breakfast is at 9:00am, work session starts again at 9:30am. Light dinner break before the show.
Learn the intricacies of Forum Theatre, with the goal to become community leaders and facilitate future workshops using simple exercises on trust, confidence and group integration. Create a Forum Theatre piece, rehearse, and learn how to conduct a public Forum session, with audience participation.
Public performance 8:00pm Saturday: $10. Free for Season Members. Workshop attendees receive 2 complimentary tickets to the performance.
Audience members become a part of the show
as they stop the action, suggest alternatives, discuss, and then name the interaction.
Umstead Park United Church of Christ is located near the Angus Barn and the entrance to Umstead Park, off of Glenwood Ave. 8208 Brownleigh Drive, Raleigh 27617
This experience is for anyone! Actors and non-actors that are interested in using theater as a tool for communication, debate and social change within their communities and a MUST for theater practitioners, social activists, teachers, community workers, and youth workers. Food will be provided throughout the two-day period.
Based on the teachings ofAugusto Boal.
Led by JTP's Artistic Director, Dr. Deb Royals, this rare opportunity will focus on the ways our economy effects the least among us.
Friday night and all Saturday day, participants will learn the intricacies of Forum Theater, with the goal of participants becoming community leaders and facilitating future workshop sessions themselves. The sessions

include

simple games and exercises centered on trust, confidence and group integration.
Participants will look at how to devise a Forum Theater piece and how to conduct a public Forum session. An original Forum Theater script will be written by the group and rehearsed. The weekend will culminate in a Saturday evening performance of the group's Forum Theater pieces (possibly in both Spanish and English). Audience members become a part as they stop the action, suggest an alternative for the characters actions, discuss and name that interaction, all facilitated by the "Joker".
Intrigued? This type of theater has engaged actors and audience since the early 1970's.
WANT TO KNOW MORE about Forum theater and how to foster change through your craft?
HERE IS INFORMATION FROM https://brechtforum.org/abouttop
"The Theater of the Oppressed, established in the early 1970s by Brazilian director and Workers' Party (PT) activist Augusto Boal, is a participatory theater that fosters democratic and cooperative forms of interaction among participants. Theater is emphasized not as a spectacle but rather as a language accessible to all. More specifically, it is a rehearsal theater designed for people who want to learn ways of fighting back against oppression in their daily lives.
In what Boal calls "Forum Theater," for example, the actors begin with a dramatic situation from everyday life and try to find solutions—parents trying to help a child on drugs, a neighbor who is being evicted from his home, and individual confronting racial or gender discrimination, or simply a student in a new community who is shy and has difficulty making friends. Audience members are urged to intervene by stopping the action, coming on stage to replace actors, and enacting their own ideas. Bridging the separation between actor (the one who acts) and spectator (the one who observes but is not permitted to intervene in the theatrical situation), the Theater of the Oppressed is practiced by "spect-actors" who have the opportunity to both act and observe, and who engage in self-empowering processes of dialogue that help foster critical thinking. The theatrical act is thus experienced as conscious intervention, as a rehearsal for social action rooted in a collective analysis of shared problems.
This particular type of interactive theater is rooted in the pedagogical and political principles specific to the popular education method developed by Brazilian educator Paulo Freire: 1) to see the situation lived by the participants; 2) to analyze the root causes of the situation, including both internal and external sources of oppression; 3) explore group solutions to these problems, and 4) to act to change the situation following the precepts of social justice.
The Origins of Theater of the Oppressed Augusto Boal began his experimentations in participatory theater in the 1950s and 60s while he was artistic director for the Arena Theater in Rio de Janeiro. He went beyond the stage and organized performances with the Arena troupe in the streets, factories, unions, churches where they could reach the people of the favelas or slums of Rio. In 1971, Boal's work drew the attention of the military dictatorship and he was arrested and tortured. After four months he was released and sent into exile, spending five years in Argentina, two in Portugal and eight in France before returning to his home in Rio.
He continued his work in Argentina, developing "Invisible Theater," aimed at getting around the repressive political climate. Invisible Theater transforms public space into a public stage creating "theatrical" situations in public places, but in a way in which the public is unaware that a spectacle is being acted out. By-standers are drawn into a discourse about social oppression, and urged to take immediate action that might affect the scenario being played out. Boal's explorations were all efforts to transform the "monologue" of the traditional performance into a "dialogue" between the audience and the stage. He believed that dialogue is the most common and healthy dynamic between humans, and that all humans desire and are capable of participating in dialogue, and conversely, that monologue can feed into oppression.
He developed a process whereby audience members could stop a performance and suggest different actions for the actor, who would then carry out the audience suggestions. In a now legendary development, a woman in the audience was so frustrated by an actor who could not understand her suggestions that she came on stage and began to play the role herself. For Boal, this was the birth of the "spect-actor" and his theater was transformed. "While some people make theater," says Boal, "we are all theater.""