Book and Lyrics by Catherine Hurd, Music by Vatrena King
Directed by Jesse Pressler and Aya Wallace. Choreography by Aya Wallace. Music Direction by Ron Cornelous
Stage Management by Kiara Dimitriadis
February 24: 8:00 pm show
February 25: 6:30 pm Drum Circle, 8:00 pm show
February26: 1:45 Pre-show discussion with RESULTS Raleigh, 3:00 pm show. FREE childcare during the show. FREE audio description services.
Umstead Park United Church of Christ. 8208 Brownleigh Drive, Raleigh NC 27617919-264-7089
TICKETS on sale now. Disability seats should be reserved by email or phone.
$22 Adults, $17 Seniors/Military, $14 Groups of 10+ and Students
READ the review by Katy Koop, Triangle Arts and Entertainment
"... David Thomas is a powerhouse. I initially brushed off his character Tom as some comedic homeless character, but seeing Zuccotti Park is worth it just to hear his song in the first act. It will blow you away. "
Events:
Friday, February 24 - 8:00 pm show
Saturday, February 25 - 6:30 pm DRUM CIRCLE, 8:00 pm show. Join an hour long drum circle, learn about the Human Microphone during the Occupy Wall Street protests. 'Drummingforyourlife' with Lorrie Houze will facilitate and provide 20 drums. $5 to drum. Free to watch. Email us to reserve your drum. thejusticetheaterproject@gmail.com
Sunday, February 26 1:45 pre-show discussion "Citizens, Democracy, Advocacy" with Lindsay Saunders of RESULTS Raleigh. FREE Childcare for children potty trained and older during the show. FREE audio description for the visually impaired. Reservations are a must.
Season Members and those needing special seating should email us at thejusticetheaterproject@gmail.com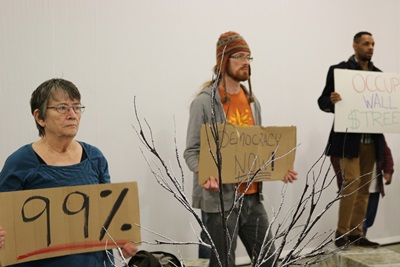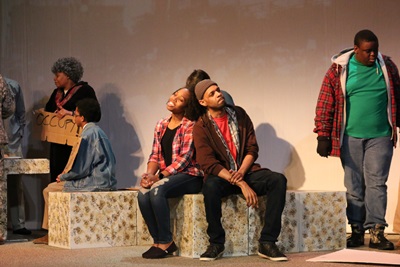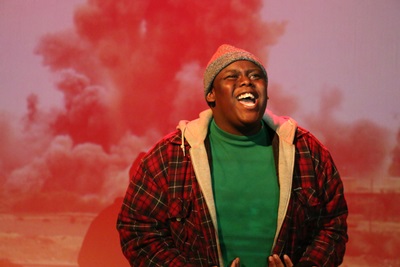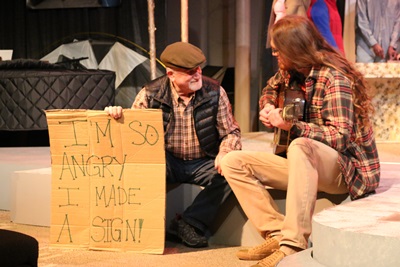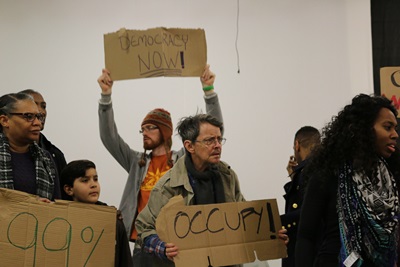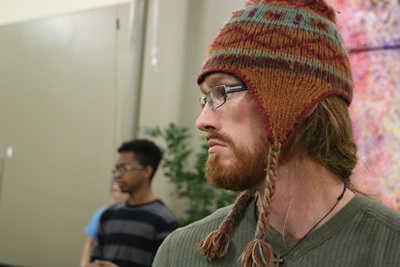 Cast:
Kate – Chanda Branch
Billy Cooper – JaJuan Cofield
Michael – Moses T. Alexander Greene
Washington - Sean Wellington
Tom – David Thomas
Ben – George Cherny
Sarah – Lebone Moses
Marguerite – Verlene Oates
Brenda – Judy McCord
Caruthers – Jim O'Brien
Jaylee, Maid, Broker 2 – Lucia Foster
Larry the Banker, Police Officer 2 - Sean Gargan
Joe – Gerard Williams
Maria – Dannibeth Farnum
Juan - Aren Marsh
June, Police Officer, Maid – Maria Barber
Ensemble, Drummer - Noah Guilford
Tiffany, Police Officer #1 - Kathleen Jacob
Frank- Mac McCord
Jessica - Grace Kelly
Adjuster, Protestor - Vincent Bland
Molly - Leah Guilford
Molly - Kyla Guilford
Broker #1, Police Officer - Thom Haynes
Protester, Ensemble - Matthew Kershaw
Ensemble - India Williams