Based upon the novel written by Alice Walker and the Warner Bros/Amblin Entertainment Motion Picture
Book by Marsha Norman. Music and Lyrics by Brenda Russell, Allee Willis and Stephen Bray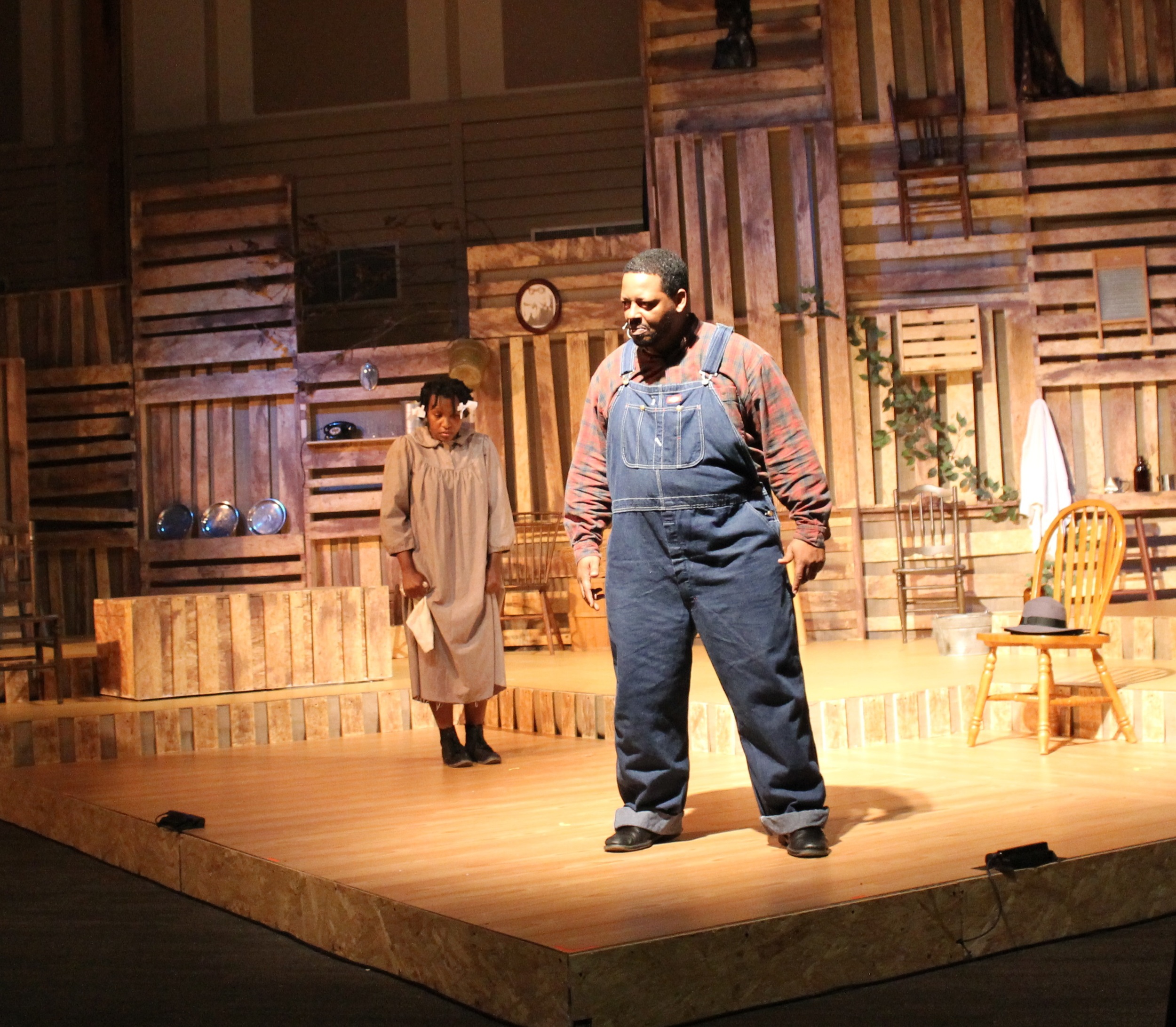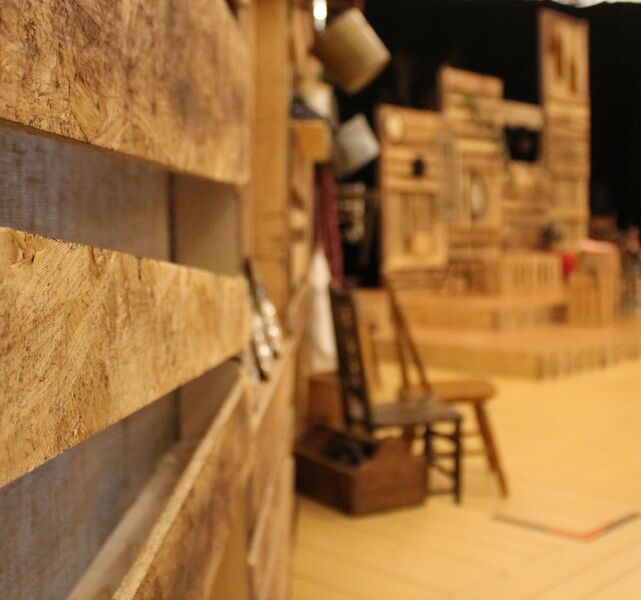 Directed by Deb Royals
Music Direction by Michael Santangelo
Photos by Julie Jones
June 12- 28, 2015
Thank you to the 2,200 patrons that attended the sold out performances of "The Color Purple". We hope to see you in 2015-16 as we present "The Best of JTP - Let Justice Roll like a River."
Events during "The Color Purple".
Thursday, June 25 - Dinner and Discussion. 6:30 pm to 7:30 pm. $10 per person, catered dinner and discussion with Dr. Sheila Smith McKoy, Associate Professor of English Studies,NC State University, Editor Emeritus, Obsidian: Literature in the African Diaspora, Co-Chair, NC Community AIDS Fund Maama Watali (Uganda), Board MemberUN Women, North Carolina Chapter, Board Member.
Friday, June 26 - 8:00 pm show - Audio Description for the Visually Impaired -
Double Cast Role Performance Dates and Times:
Nettie: Carly Prentis Jones (Opening)
Monica Williams (Closing)
Celie: Aya Wallace (Opening)
Terra Hodge (Closing)
Mister: Phillip Bernard Smith - all shows
Sofia: Me-Me Cowans (Opening)
Maria Barber (Closing)
Squeak: Drina Dunlap (Opening)
Sidney Edwards (Closing)
Shug: Connie McCoy Rogers (Opening)
Sandra Dubose (Closing)
Characters:
Young Celie/Girl/Ensemble……………………………………………….Janaya Farrar
Young Nettie/Young Olivia/Ensemble……………………………….…..Lee Jeffries
Church Soloist/Ensemble…………………………………………………Lynnette Barber
Darlene……………………………………………………………………. Carolyn Colquitt
Doris………………………………………………………………………..Renee Coley
Jarene…………………………………………………………………….Lora Deneen Tatum
Pa/Ensemble……………………………………………………………….Charles Sanders
Nettie………………………………………. ...Carly Prentis Jones and Monica Williams
Celie………………………………….....................……….. Aya Wallace and Terra Hodge
Preacher/Ensemble………………………………………………………….Juan Isler
Mister……………………………………......................................... Phillip Bernard Smith
Young Harpo/Ensemble…………………………………………………… Divine Pipkin
Harpo………………………………………………………………………. Chase Rivers
Sofia………………………………......................…... Me-Me Cowans and Maria Barber
Squeak……………………………………………… Drina Dunlap and Sidney Edwards
Jarene's Husband/Chief/Ensemble…………………………………………. Jamal Farrar
Darlene's Husband/Bartender/Ensemble………………...…………………..TJ Swann
Doris' Husband/Grady/Ensemble………………………….. Moses T. Alexander Greene
Shug………………………………………….Connie McCoy Rogers and Sandra Dubose
Church Mama……………………………………………………………….Regina Brooks
Ol' Mister/Ensemble…………………………………………Chuck Davis and Fred Wilson
Buster………………………………………………………………………..Frederick Locks
Young Adam……………………………………………………………….. Jarius Copeny
Guard/Ensemble………………...……………………………………….. Rick Merkle
Daisy/Ensemble……………………………………………………………Joy Bryant
Glodene/Ensemble…………………………...……………………………Verlene Oates
Odessa/Ensemble……………………………………………………….Celeste Hinnant
Adam/Ensemble…………………………………………………………...Jonathan Rice
Olivia/Ensemble……………………………………………………………Kendra Wiggins
The Mayor and Miss Millie........................................Tracy Davis and Ann Bozek-Davis
Buddy/Field Hand/Jawbone...........................................................Dr. Rex E. Jeffries
Sister # 3/Ensemble ......................................................................Gwen Veale Hendrix
Sister # 2/Odessa/Dancer/Ensemble....................................................Marcia Mattox
The Mayor..............................................................................................Tracy Davis
Miss Millie ......................................................................................Ann Bozek-Davis
Ensemble: (Field Hands, Sisters, Buddie, Townspeople, Tribe, Villagers, Royal Wives, African Wives, Olinka Children, and General Ensemble Singing and in addition to the people cast in the above roles)
Tamya Bland, Regina Brooks, Alexus Brown, Endia Brown, Oweida Cole, Sam Davis, Barbara Diciero, Samir Hanef, Nasiyah Hayes-Palmer, X'zavier Hayes-Parker, Gwen Hendrix, Celeste Hinnant, Grace Kelly, Matthew Kershaw, Marcia Mattox, Termaine Yarborough
Dancers: In addition to the people cast in the above roles:
Cynthia Gary, Brittany Harlan, Brenda Hayes, Courtney Hayes-Rainey, Willie Hinton,
Terry Hodge, Lee Jeffries, Rex Jeffries, Kristi Johnson, Tasha McLean, Avis Hatcher Puzzo, Imani Stover, Samari Stover
THINGS TO READ/SEE/DO
The Color Purple: Text and Context
Sheila Smith McKoy, PhD
Things to Read:
Marilynn Barner Anselmi, You Wouldn't Expect: http://www.marilynnbarneranselmi.com/plays.html
Derrick Bell, Faces at the Bottom of the Well: The Permanence of Racism
Jacqueline Bobo, "Black Women's Responses to The Color Purple":
http://www.ejumpcut.org/archive/onlinessays/JC33folder/ClPurpleBobo.html
Steven Gregory and Roger Sanjek, Race
Charles Chesnutt, "The Web of Circumstance"
Louis W. Liebovich, Bylines in Despair: Herbert Hoover, the Great Depression and the U.S. News Media
Thomas F. Marvin, "Preachin' the Blues": Bessie Smith's Secular Religion and Alice Walker's The Color
Purple
Toni Morrison, Home
Ann Allen Shockley, Loving Her (1997)
Siobhan Somerville, Queering the Color Line: Race and the Invention of Homosexuality in American
Culture (2000)
Sheila Smith McKoy, When Whites Riot: Writing, Race and Violence in American and South African
Cultures (2001)
Alice Walker, In Search of Our Mother's Gardens (1983)
Mel Watkins, "Some Letters Went to God." The New York Times 25 July 1982. 11 pars. Web. May 13
2011: http://www.nytimes.com/1982/07/25/books/some-letters-went-to-god-by-mel-watkins.html
Websites to Visit:
Detroit Race Riot: http://www.dailykos.com/story/2013/12/23/1264894/-Black-History-The-1943-Detroit-Race-War
Fatal Flood: American Experience: http://www.pbs.org/wgbh/americanexperience/films/flood/
NC Eugenics Program: http://www.learnnc.org/lp/editions/nchist-worldwar/6164
From Place to Page: Rural Georgia Authors Tour: http://deepsouthmag.com/2013/08/from-place-to-page/
The Scottsboro "Boys" Trials, 1931- 1937:
http://law2.umkc.edu/faculty/projects/ftrials/scottsboro/scottsb.htm
Marianne Schnall, Conversation with Alice Walker:
http://www.feminist.com/resources/artspeech/interviews/alicewalker.html?gclid=CNT8zZ2ZiMYCFYo8gQodUbUAvg
Selma to Montgomery March: http://www.history.com/topics/black-history/selma-montgomery-march
Alice Walker on the 30 Anniversary of The Color Purple: Racism, Violence Against Women Are Global
Issues: http://www.democracynow.org/2012/9/28/alice_walker_on_30th_anniv_of
Without Sanctuary Musarium; http://withoutsanctuary.org/
Films to See:
Alice Walker, Beauty in Truth (2013), Directed by Pratibha Parmar
The Color Purple (1985), Directed by Steven Speilberg
No Way Out (1950)